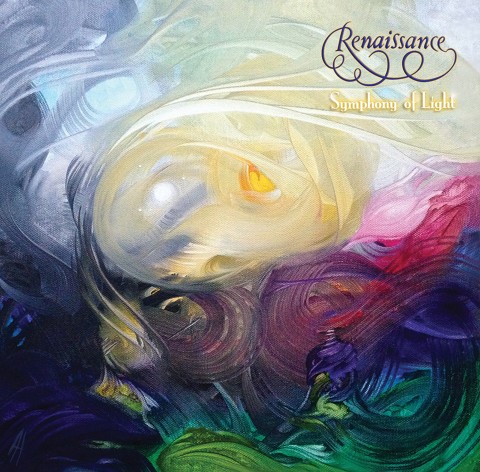 Renaissance have secured a distribution deal with Red River Entertainment, which now allows their new music to be heard worldwide. The new album is called
Symphony Of Light
and contains the songs from the 2012 release,
Grandine Il Vento
plus three bonus tracks: "Renaissance Man," "Immortal Beloved" and "Tonight."
The album's title track is about and dedicated to Leonardo da Vinci, while "Renaissance Man" was written by lead singer Annie Haslam and keyboardist Rave Tesar in honor of the late Michael Dunford, who joined Renaissance in 1970. Together with Haslam, Renaissance continued touring and recording until 1987. Then, in 2009, the band reunited with Haslam and Dunford for their 40th Anniversary tour.
Symphony Of Light
is now regarded as a true testament to the unforgettable melodies and love that Dunford infused into his work. He died prematurely in late 2012 after
Grandine Il Vento
was completed. All the songs bathe the listener in flavors from far off countries, with lush orchestral arrangements and unusual lyrical content, with guest performances from
Ian Anderson
(
Jethro Tull
) and
John Wetton
(
Asia
).
The album cover was designed and painted by Annie Haslam, who has a flourishing career as an artist known for her unique, signature style. She calls herself an "intuitive visionary painter" who channels "other dimensions, planes of existence, deep into space. I can tune into people, animals, situations, places, tangible and intangible, all from a simple thought and intention."
Haslam has donated paintings to animal groups that include The Farm Sanctuary and the Humane Society of the United States for their fundraising auctions. She paints musical instruments and has painted acoustic guitars for C.F. Martin Guitars (one of her guitars hangs in their museum) and electric violins manufactured by Mark Wood. Fans have commented that looking at her paintings is like looking at her music, and she displays her work at all her concerts for the fans to enjoy.
Nicholas J. Sands, director of Sands & Company Fine Art in New York City, heralded Haslam's paintings as "magical, enigmatic and wondrous for their ability to take us to a far-away place… of fluid forms that are at once alien and familiar, primordial yet recognizable, which dance in an endless array of colors that are as rich and intense as molten lava."
Renaissance is: Annie Haslam lead vocals, Rave Tesar keyboards, David J Keyes bass guitar, Jason Hart keyboards, Frank Pagano drums, Ryche Chlanda acoustic guitars.
TRACK LISTING
1. Symphony of Light
2. Waterfall
3. Grandine il Vento
4. Porcelain
5. Cry to The World (guest appearance Ian Anderson on flute)
6. Air of Drama
7. Blood Silver Like Moonlight (Annie's duet with Asia's John Wetton)
8. The Mystic and The Muse
9. Tonight
10. Immortal Beloved
11. Renaissance Man
TOUR DATES
(Stay tuned to
www.renaissancetouring.com
as more dates are announced)
10/23 - Ridgefield Playhouse, Ridgefield, CT
10/24 - The Concert Hall, New York NY
10/25 - Keswick Theater, Glenside, PA
10/30 - The Center for Arts in Natick, Natick, MA
10/31 - Hart Theatre, Albany, NY
11/01 - Tupelo Music Hall, Londonderry, NH
11/02 - Narrows Center for the Arts, Fall River, MA
RENAISSANCE LINKS
www.renaissancetouring.com
www.facebook.com/RenaissanceTouring
www.facebook.com/AnnieHaslamArt
www.anniehaslam.com