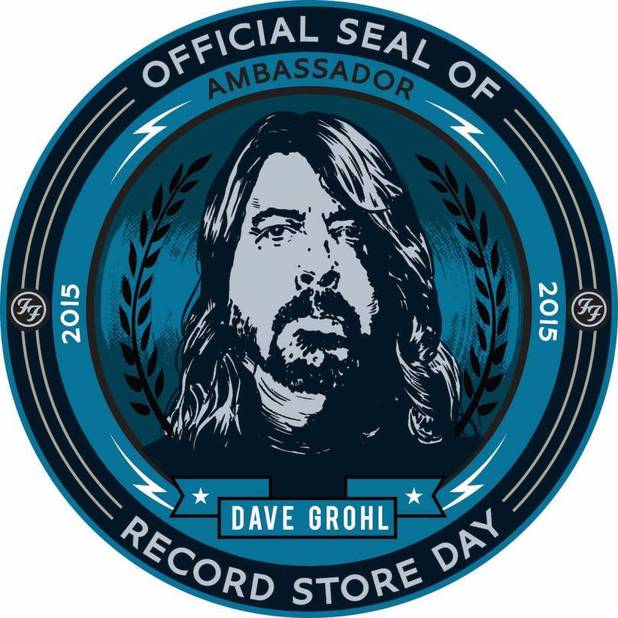 Record Store Day, the annual celebration of grooved acetate discs returns this Saturday, April 18 to independent record stores around the world. Obsessive record collectors and vinyl aficionados will be queuing around street corners in the hope of getting their hands on a coveted item.
As in recent years, the plats du jour are a veritable feast for the music lover, covering all the best that the spectrum has to give, but we can tell you that offerings for the 2015 event, slated for Saturday, April 18th, are weighted towards the indie labels—254 titles from the indies of the full 400 RSD releases!
Foo Fighters, featuring this year's Ambassador, Dave Grohl, will release their
Songs From The Laundry Room
on 10" vinyl (RCA), a handful of nascent Foos' demos created at Barrett Jones' Laundry Room Studios in Seattle.
Metallica follow suit, re-releasing their first demo,
No Life Til Leather
as a cassette-only release on Blackened, furthering their ongoing relationship with Record Store Day.
And Mumford & Sons offer a special RSD vinyl single, "Believe" on Glassnote, the first release of new music from their upcoming full length record.
As for spotlighted live recordings, Justin Townes Earle gives us his
Live At Grimey's
, from Nashville's notable indie record outpost, set for release on 10" vinyl through Vagrant; St. Paul; Phish give us
New Year's Eve 1995 Live at Madison Square Garden
in 6 X 12" vinyl box set on Jemp/ADA; and Jethro Tull release
Live at Carnegie Hall
on 12" thanks to Rhino. Another one from Rhino is a special
RSD Exclusive Release
from the Doors, compiled from tracks suggested by record store owners and the individual tracks were selected by Bruce Botnick and includes rare mono mixes and live tracks.
Rhino also continues its now beloved SIDE BY SIDE series with 7" singles from diverse pairings like Gram Parsons/Lemonheads, David Bowie/Tom Verlaine, Grandmaster Flash/Stiff Little Fingers, Dionne Warwick/The Stranglers, R.E.M./Syd Barrett and another MYSTERY RELEASE! 

Grouplove gives us unreleased covers (one with Portugal The Man) and their cover of The Beach Boys' "Don't Worry Baby" on 10" vinyl (Atlantic).
Record Store Day teams up with Sun Records and Tito's Handmade Vodka for an extraordinary second volume of their Sun Records Curated By Record Store Day collection, with tracks chosen by participating indie record stores. The comp will be released on 12" vinyl through ORG.
Concord presents
Miles Davis The Prestige 10'' LP Collection Vol. 2
, a brilliant, career-spanning 5 10" LP set from the jazz master. that follows Vol. 1, released last year for Black Friday.
Fans of Jeff Beck won't be disappointed, as Sundazed Music will release three 7" EPs: "Love is Blue" b/w "I've Been Drinking"; "Hi Ho Silver Lining" b/w "Beck's Bolero"; and "Tallyman" b/w "Rock My Plimsoul."
Record lovers can expect some fantastic—and diverse--titles from Sony this year, including Legacy pieces like Cassandra Wilson covering Billie Holiday on "You Go To My Head" b/w "The Mood That I'm In," (with Lady Day's originals on the flip side) and the stars of Cameron Crowe's
SINGLES
, Citizen Dick with their appropriately titled "Touch Me I'm Dick" 7".
For the first time on vinyl, Opal releases a double 12" set of the legendary 'lost' Brian Eno album
My Squelchy Life
. Heavily bootlegged and entered the lexicon of Eno myth, the album was originally slated for release on Warner Bros in September 1991 and pulled from the schedules at the last moment. For this exclusive Record Store Day edition it is presented in a deluxe gatefold edition including an additional track from the same recording session, "Rapid Eye", that has never been released.
Yep Roc Records is also set to release "Follow Your Money"/"Motion Pictures" a Limited Edition Record Store Day Exclusive on 7" vinyl. Recorded in Melbourne, Australia, this release features the collaboration between Robyn Hitchcock and Emma Swift. The two met at an Emmylou Harris & Rodney Crowell concert in 2013 and have been making music as a duo ever since, drawn together musically by a penchant for songs of desire and desolation. "Follow Your Money," is a brand new track and "Motion Pictures" is a cover by Neil Young.
And speaking of Neil Young, Blitzen Trapper will release a live recording of their set covering Young's classic album,
Harvest
live at the Doug Fir Lounge in Portland, OR.
Motown release Marvin Gaye's classic "How Sweet It Is (To Be Loved By You)"-- A special double A-sided 7-inch single celebrating the 50th anniversary of one of his biggest hits.
Those are just a handful of special Record Store Day special releases. To round out the day, several record stores are sponsoring artist meet-and-greets and live performances.
Record Store Day 2015 Ambassador Dave Grohl and the Foo Fighters will appear at Record Connection in Niles, Ohio. Meanwhile, Rough Trade in Brooklyn will play host to some noteworthy artists: Kim Gordon will be popping in for a meet, greet and signing of her acclaimed new book,
Girl In A Band
, Amanda Palmer confirmed a Dresden Dolls reunion. The Buzzcocks will also stop in for a signing of their latest, an RSD special release, "The Way," a 7" from last year's album release of the same name b/w the previously unissued on vinyl "Generation Suicide" and the newest Daptone signing, Saun & Starr, who provided backing vox on Sharon Jones & the Dap Kings latest RSD special, will play a set at the store, as well.
Merge Records celebrates RSD at Bull City Records in their hometown of Durham, NC with a full day's agenda of said label's much-loved artists, including performances by indie darlins'/supergroup, Ex Hex, label co-founder/Superchunk/Portastatic mainman, Mac McCaughan and William Tyler (Lambchop, Silver Jews, etc…).
Just down the street and around the block at Raleigh's Schoolkids, Dom Flemons, founding member of Carolina Chocolate Drops, will be playing a set in support of his special Record Store Day release, What Got Over (10" vinyl) and All Time Low will pop in for a signing of their #1 UK debut, Future Hearts.
Grimey's in Nashville presents Big Day performances from Those Darlins and The Lees of Memory, both of whom have special RSD releases, along with not-to-be-missed sets from Turbo Fruits, Halestorm, Kitty Daisy & Lewis, and Jonathan Jackson + Enation, from TV's Nashville.
Dawes pops in for a set at Portland, OR's beloved Music Millennium, as does Dead Moon and head west on Burnside to Everyday Music for DJ sets from Laura Viers and Tucker Martine, Steve Turner from Mudhoney and an evening rock set by The Dandy Warhols followed by the Dandys doing a DJ set, as well.
Amoeba Hollywood will see no shortage of DJ sets either with a boast-worthy lineup including Rick Ross (Delicious Vinyl), TV On The Radio's Dave Sitek, Dub Club DJ Boss Harmony and more! Live performances at Amoeba will include Mike Watt + The Secondmen (plus a signing), EV Kain (who will do the same) and Art/Caricature installation by members of the aforementioned TVOTR and a full playbacks of the Sun Records Curated by RSD LP and Fool's Gold Flying Lessons' LP. Radiohead's Philip Selway will do a set up the coast at Amoeba San Francisco, along with DJ sets from Boombostic, Kells Bells, DJ Primo, OkieOran, Beerzbub and Russell Quan.
The amazing Damien Rice performs at Denver's longstanding outpost, Twist and Shout, Jason Isbell does his thing at Horizon Records in Greenville, SC, and the legendary Todd Rundgren graces Little Rock's Arkansas Record and CD Exchange.
Asylum Records in Mesa, AZ hosts a special set by GWAR and metal trailblazers Morbid Angel check in to meet n' greet fans at Austin's Waterloo Records.
And last, but not least, Good Records in Dallas will see performances from the ubiquitous OKGO, as well as from Steve Earle, who is set to release a 10" on New West, an RSD exclusive,
Terraplane
, inspired by Robert Johnson's "Terraplane Blues" and featuring both Earle's and Johnson's version of the song. Revered songwriter, Chris Stapleton will also rock the store in support of his RSD release,
In Stereo
, (Limited Run/Regional Focus) on 10".
For more information on Record Store Day 2015 events, visit:
www.recordstoreday.com
.