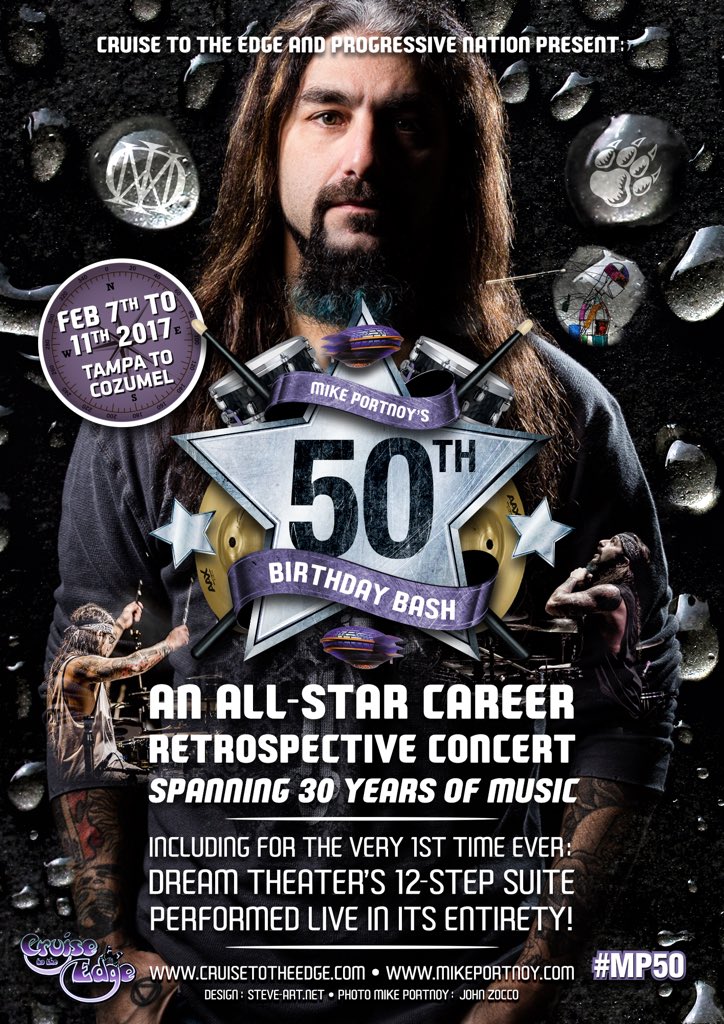 Prog-rock fans are in for a treat on the next
Cruise To The Edge
excursion. Drummer
Mike Portnoy
will revisit a chestnut from his former band Dream Theater, performing the epic "12 Step Suite" in its entirety on the cruise.
The piece, an ensemble of five songs recorded from 2002 to 2009, documents the drummer's battle with alcoholism, with titles that reflect his struggles: "The Glass Prison," "This Dying Soul," "The Root of all Evil," "Repentance" and "The Shattered Fortress."
According to Portnoy, he wanted to perform "12 Step Suite" live in its entirely with Dream Theater, but never got a chance before exiting the band in 2010.
"I've decided that I owe it to the fans to finally bring my '12 Step Suite' to life on stage as I always had dreamed, " Portnoy says. "Cruise to the Edge passengers will be the first to ever see this performed live!"
Portnoy will also be celebrating his 50th birthday on Cruise To The Edge with an all-star career retrospective concert.
Sailing out of Tampa, FL, February 7, 2017, Cruise to the Edge hits Cozumel, Mexico with a who's-who of prog-rock prodigies.Headliners
Yes
,
Kansas
,
Steve Hackett
and
John Wetton
join Portnoy on the deluxe music vacation package.
Over a dozen other bands are slated to perform, including
Patrick Moraz
, Bad Dreams, Neal Morse Band, IO Earth, Spock's Beard, Alex Machacek, Änglagrd, Stick Men, Haken, Pain of Salvation, Curved Air, Electric Asturias, District 97, Scott Henderson and Focus, with more bands to be announced.
In addition, Yes coverart artist Roger Dean will be aboard to talk about the back story of his unique designs and the cruise will be hosted by UK journalist and preeminent Yes expert, Jon Kirkman.
Passengers aboard Cruise To The Edge are able to partake in a wide array of activities. Beyond the sun, fun and exquisite dining, there will be photo ops, Q&A sessions, surprise jams and more.
This year will also feature the unprecedented CTTE Late Night Live, where fans can sign up to showcase their own musical talents in four different performance scenarios: Late Night Live Pro Jam, where you could be invited to play with a headline act; Artist's Choice, featuring fans and Prog legends performing together; The Main Event, where it's your choice to shine with fellow Late Night Live musicians and Overtime Jam, where a song of your choosing could be featured in a late-night jam.
Cabins are still available aboard the full-charter cruise starting at $999 per person (double occupancy). Children 11 and under at the time of sailing are free when sharing a cabin with two full fare paying adults. Government fees, taxes, and gratuities are mandatory for all passengers regardless of age.
For booking and more info, visit
CruiseToTheEdge.com
and connect on Facebook and Twitter.