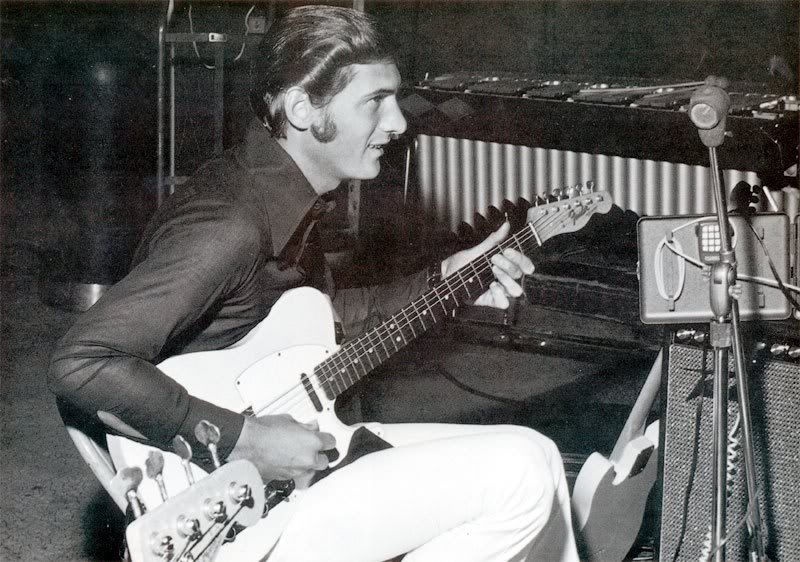 Yesterday (December 1), guitarist Steve Cropper donated three solid-body guitars and an amplifier to the Smithsonian's National Museum of American History during a special ceremony. Cropper also gave a showcase performance of several legendary works he contributed to the American songbook using the instruments. The objects were all used by Cropper during his legendary 60-year career ranging from songwriting and live performance to hit records and movies.
All four objects were manufactured by Fender. The first guitar, a 1961 Fender Esquire "Doc," was played on Otis Redding's recording of "(Sittin' on) the Dock of the Bay" (1967). The second instrument is a 1975 Fender Telecaster that was played in a scene from the movie
The Blues Brothers,
and used on two Levon Helm albums and the Blues Brothers' album
Brief Case Full of Blues
. The third guitar is a Fender Telecaster made in 1951–1952 and gifted to Cropper by Jim Dickerson, a producer and recording artist from Memphis. The Fender Harvard amplifier, purchased between 1957 and 1958, was used by Cropper in his work with Booker T and the MGs, including on their hit instrumental "Green Onions" (1962).
Cropper is an inductee into the Songwriters Hall of Fame and the Rock & Roll Hall of Fame. He has written and cowritten hundreds of songs, including "(Sittin' on) The Dock of the Bay," "Knock on Wood," "In the Midnight Hour," "634-5789" and more than 400 others. His songs have been recorded by Booker T and the MGs, Otis Redding, Aretha Franklin, James Taylor, Michael Bolton, Glen Campbell, Rod Stewart, The Staple Singers, Waylon Jennings, Aaron Neville, Eric Clapton and David Bowie.
"The instruments will be some of the first the museum collects that document the story of Memphis rock, R&B, and soul music," said John Edward Hasse, curator of American Music, "these objects document a leading songwriter, who worked closely with a number of leading African American musicians and played on countless recordings."
Out of all of his accomplishments, Cropper will always be known for co-writing and playing on the recording "(Sittin' on) the Dock of the Bay." When released in 1968, just after Redding's tragic death in a plane crash, "Dock of the Bay" soared through the charts, becoming the first posthumous single to reach #1 on the U.S. record charts. The recording sold more than 4 million copies worldwide. In 1999, BMI named the song as the sixth-most performed song of the 20th century with more than 6 million performances.
Cropper's guitars will join a large and diverse collection of musical instruments at the museum that includes John Coltrane's saxophone, Dizzy Gillespie's trumpet, Prince's Yellow Cloud electric guitar and Eddie Van Halen's "Frank 2" guitar.